How to Spend a Summer in the Swiss Alps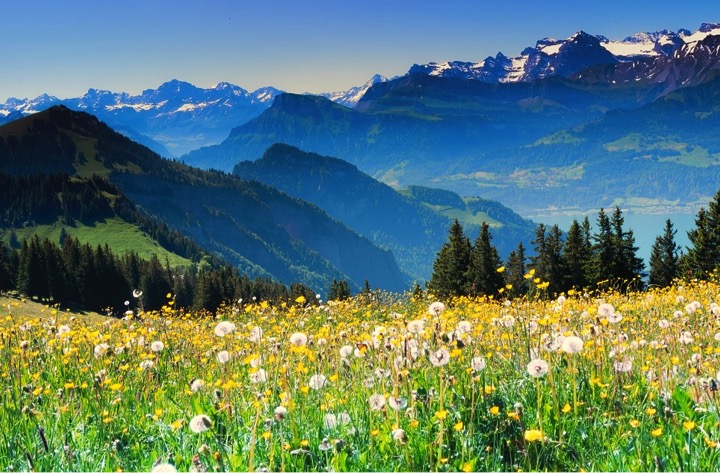 Matterhorn in the Switzerland Alps is the most popular and redolent destination, as it stays away from burly city life and includes a swathe of summer activities. Their complete mountain ranges are in Europe that include Splügen Pass, which forms the Swiss–Italy border between the west and east, and countries like Italy, France, Switzerland, Germany, Austria, and Hungary.
The Swiss Alps is an exotic glacial land inviting people with offering scenic light rails, the Charles Kuonen Suspension Bridge, chalets, museums, castles, toboggan and ski rides, hikes along mountains and villages, lakes, road trips, and jazz festivals. It is a nature-friendly place with mighty mountains straddled with a vast expense of flora and founa, pinnacles, and stunning viewpoints.
The Alpine experience will be great with the best picks of tranquil stay, sightseeing, and adventure spots. Among the bucket list, the most popular backpackers' destinations are Zermett, Interlaken, Lucerne, Bern, Heidiland, the GoldenPass Line, Mt. Rigi, and St. Moritz.
Zermett
Zermett affords opulent resorts of France–Swiss style, picturesque mountain trails, boutique shops, skiing areas, and cuisines. You will be awestruck with Matterhorn, Gorner Glacier, Rothorn, Charles Kuonen, and Nordend. Matterhorn is an unbeatable place to head on for its best of chalets, mountains, glaciers, and trails. It is a nice place to go for paragliding, mountaineering, and skiing with your family and friends. You will experience the pleasant weather, panoramic views of the gorges, and grazing lands while going for tandem flying. Gorner Glacier is the largest glacier system that offers sublime glacier cave tours and Gornergrat Observatory for magnificent vistas of Matterhorn, Zermatt villages, and the entire Alps.
Interlaken
Interlaken features impressive floral beds, Harder Alpine Park to explore marmots and alpine goats, Lake Thun embraced with a paddle, Touristik Museum, alpine gardens, and Gothic-style small towns. The Garden of Friendship is the first Japanese garden in Switzerland.
Lucerne
Lucerne in the Central Alps makes it easy to go around the surrounding locations in Switzerland. It offers an assortment of sights from bridges, towers, chic towns built in Late Gothic and Italian Renaissance styles, museums, catholic churches, the Lion Monument, and Town Walls. Take a funicular from Lucerne to Interlaken on the GoldenPass Line to have splendid views of mountains, grasslands, villages, and lakes. It is remarkable that the Glacier Garden of Lucerne has been constructed from a glacier pothole of the Ice Age. You will get a jaw-dropping experience at the glacier garden looking at the potholes, a museum, the labyrinth of mirrors, an observatory desk, and the adjacent park.
Heidiland
This land was the focus of the world's famous Heidi story. While visiting Lake Walen and Sarganserland, you will appreciate the reality of the cartoon show. There are many serene mountains, pristine valleys, pastures, and lakes in this destination. Here, nature lovers and adventurers may enjoy a wide range of summer activities like skiing, hiking, and golfing.
St. Moritz
This is a beautiful location with Olympic spots, glaciers, mountains, forests, Heidi's hut and the Heidi Flower Trail, galleries, and valleys. You may amble around the shores of Lake Staz and forests leading to Celerina, devour snacks on the walkways, and get on to the alpine village of Sils. In Sils, there are Engandine-style houses, Nietzsche Museum, the delta of Fedozbach, and Fex Valley. The trails through Fex Valley lead to a rustic village of Platta and a chapel.